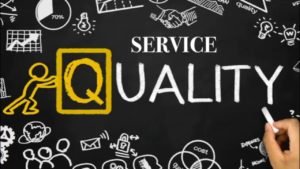 The service quality factors are those attributes of service about which customers may have expectations and which need to be delivered at some specified level.
They vary from organization to organization and also from customer to customer, so it is difficult to capture every aspect of service quality for every organization. However, the following is a good attempt that can help organizations start to define, deliver and measure service quality: access, aesthetics, attentiveness/helpfulness, availability, care, cleanliness, comfort, commitment, communication, competence, courtesy, flexibility, friendliness, functionality, integrity, reliability, responsiveness, and security.
These service quality factors can be divided into four groups based on a factor's ability to dissatisfy and delight. This is shown in figure 1 below and explained using a bank as an example.
Figure 1
1. Hygiene factors: Those that need to be in place and if they are they will satisfy the customer, if they are not they will be a source of dissatisfaction. They are not likely to be a source of delight. For a bank, security, for example, is expected to be in place; if it's not, customers will be dissatisfied. On the other hand, if it's over specified it will not delight. A very large number of security checks will not delight customers; indeed they could dissatisfy them, like when customers are not allowed to receive or make calls inside the banking hall.
2. Enhancing factors: Those that have the potential to delight if they are present, but if they are not there they are not likely to dissatisfy the customer. Customers of a bank may be delighted with a warm, caring approach by a member of staff or their flexibility in dealing with a problem; however, these things are not necessarily expected so, if they are not provided, their absence may not lead to dissatisfaction.
3. Critical factors: Those that have the potential to both delight and dissatisfy. Responsiveness, communication and competence of bank staff and systems must be at least at an acceptable level so as not to dissatisfy the customer, but if they are at more than the acceptable level they have the potential to delight.
4. Neutral factors: Those that have little effect on satisfaction. The aesthetics of a banking hall may play no part in customers' satisfaction or dissatisfaction.
It's important for organizations to not only be aware of the expectations of their customers but to also realize the importance and potential effect of the various factors – which factors will delight and which will dissatisfy. With this, they will be able to manage the creation of satisfaction during the service process.
The strategy is this: Find the service quality factors for your organization and customers, and then identify the enhancing, hygiene and critical factors and focus on them. Do not waste additional resources on neutral factors once you get them to an acceptable level.
This is because in today's globalized world, you need the difficult-to-copy intangibles to stay ahead of competition. Not the neutral factors – the tangibles – which like mere products, are becoming commodities. Even brands are becoming hollow. And competitors are always just one mouse click away. But customer service is here to stay.
It's one of the last frontiers of sustainable competitive advantage and one of the strongest ways to grow your profits. Yet many organizations still treat it like a cost function. Paying lip service to its value, while doing everything they can to inadvertently cut costs from enhancing and critical factors and invest it in neutral factors which can easily be copied by competitors.
This can work if your goal is to meet customer expectations. But if your goal is to consistently achieve service excellence and gain competitive advantage, then this is a flawed strategy. What is required is to invest more in the hygiene, critical and enhancing factors to create an organization that cares.
This implies going beyond points of contact with external customers to build an organization-wide culture of service excellence that will transform your people to people that care.