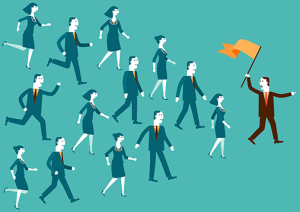 Employee engagement is the extent to which employees feel passionate about their jobs, are committed to the organization, and put discretionary effort into their work.
Employee engagement does not mean employee happiness. Someone might be happy at work, but that doesn't necessarily mean they are working hard, productively on behalf of the organization. While company outings, TGIF, and end-of-year parties are fun–and may be beneficial for other reasons–making employees happy is different from making them engaged.
Also, employee engagement does not mean employee satisfaction. A satisfied employee might show up for her daily 8-to-5 without complaint. But that same "satisfied" employee might not go the extra effort on her own, and she'll probably be easily lured away by a headhunter with a 10% increase in pay. Satisfaction is not enough.
So put in a different way, employee engagement is the emotional commitment the employee has to the organization and its goals.
This emotional commitment means engaged employees actually care about their work and their company. They don't work just for a paycheck, or just for the next promotion, but work on behalf of the organization's goals.
When employees care—when they are engaged—they use discretionary effort. Examples are: The engaged computer programmer who works overtime when needed, without being asked; The engaged bank officer who visits the office on Saturday to ensure the ATM works, even if the boss isn't aware.
Engaged employees lead to better business outcomes. Hence, an organization with high employee engagement might therefore be expected to outperform those with low employee engagement, all else being equal. Studies by Kenexa Research and  Towers & Perrin point to the fact that engaged workers have higher net profit margins and shareholder returns.
However, as critical as employee engagement is, very few people in management or supervisory roles appreciate its importance and their role in achieving high employee engagement.
The main way to achieve high employee engagement is to meet five basic needs of all people: to be heard, to be respected, and to have competence, autonomy, and purpose. This makes leadership a major driver of employee engagement.
In fact, by virtue of the number of direct reports, front-line leaders like supervisors hold the key to engagement . One of the most important drivers of employee engagement is the quality of supervision and support employees receive from their immediate supervisor. According to Gallup, supervisors who cultivate positive, caring relationships with their direct reports  generate high levels of engagement.
In customer service for instance, it's been observed that engaged employees consistently deliver excellent customer care by "going the extra mile" for customers.
It makes sense that when employees tasked with serving customers have the confidence of knowing their supervisor cares about them, they feel more valued. When these service providers feel valued, they are eager to pass that positive feeling on to their customers by making them feel valued and important.
What makes the supervisors who have highly-engaged employees different, is how they view their relationship with their direct reports. Rather than seeing themselves as an enforcer of performance; they consider their role as a manager and developer of front-line talent.
While conventional supervisors rate the person and develop the performance, this new breed of supervisor does just the opposite—they rate the performance and develop the person. Highly effective leaders use situational leadership style knowing that every person is different and should be treated as such.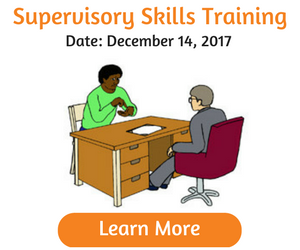 Despite the fact that quality supervision is a key driver to employee engagement, supervisors are among the most under trained and ill-prepared employees in many companies. Most supervisors are experienced service people promoted from within the service unit. They receive training in the technical and systems side of their job but rarely receive in-depth training in supervisory skills—the basic skills for gaining employee commitment and engagement.
In addition to supervisory skills training, supervisors require three more ingredients in order improve engagement: time for one-to-one interaction with direct reports, right tools for opening up communication and building trust, and the ability to measure team's engagement scores.