The purpose of training is to prepare participants to perform certain tasks effectively on the job. It is this effective staff performance that allows organizations to achieve excellence and maintain competitive advantage. So it comes as some surprise to find that many organizations don't measure the impact of their staff training on performance.
The reasons include lack of resources, confusion about what should be measured and lack of staff who understand measurement methodologies. Many simply don't think it matters to know which training is working best or having most impact. Also, many managers in charge of training simply don't see measurement as a priority.
However, as the saying goes; if you can't measure it, you can't manage it. And if you can't measure or manage it, you may well ask yourself exactly what the point is in investing in it.
The arguments for measurement of the impact of training are compelling, including: validating it as an improver of performance and profitability; justifying its costs in times of belt-tightening; improving future training design and to help in selecting the most appropriate training methods for your needs.
Also, research by Robert O. Brinkerhoff shows that only 15 percent of what is learned during training will be applied on the job if it is not reinforced and monitored.
So how do you measure the business impact of your staff training? Donald Kirkpatrick, pioneered what is referred to as the four levels of evaluation for training programs. Kirkpatrick's model was amended slightly over time to include a fifth level, ROI, by Jack Phillips, measuring Return On Investment of level four results.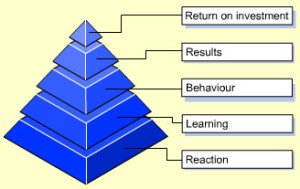 Each of these levels will be considered one at a time. As we move up the levels, it becomes more difficult to measure the results. But at the same time it becomes more aligned with the business objectives. The five levels are as follows:
Reaction
This is the degree to which your staff react favourably to the training program. This level may not be an immediate or obvious link to Return On Investment. However, if your participants feel positive about the training program, this will have an impact on how they will perform, which could result in a future impact on your bottom line.
Action Step:
Level one training data is easy to gather and analyze. Start the feedback process by delivering post training surveys or getting a verbal reaction from trainees.
Learning
This level checks the degree to which your staff acquired the intended knowledge, skills, and attitudes based on their participation in the training program. In practical ways, this can be measured through tests or some form of demonstration of skills/knowledge.
Action Step:
With a little planning before your training program begins you can conduct level two measurement. Prior to your program, consider what skills you want your team to master? You can then use assessments or tests before and after the training to benchmark performance changes as a result of the training program. Level two performance assessments are relatively easy to establish if the skills your staff are being trained on are readily quantifiable.
Behavior
This is the degree to which participants apply what they learned during training when they are back on the job. In other words, this is the practical and long-term application of level two assessments to boost performance and impact the bottom line. It is done mostly through observations, interviews and constant monitoring.
Action Step:
Measuring at level three requires setting up a plan to conduct observations and interview staff in ongoing ways in order to evaluate the sustainability of the skills you want to instill. This will typically involve coordination with your management team in order to get access to speak with their direct reports. In order for you to be able to measure the impact at this level, the pre-requisite would be that you should have created the training while keeping in mind the business objectives and the skills gaps of the staff in the first place.
Results
This level is the most closely linked with ROI.  It is the degree to which targeted outcomes occur as a result of the training and subsequent reinforcement of level three. Level four outcomes are not limited return on training investment. They can include other major results that contribute to the well functioning of your organization – changes in variables that should have a relatively direct effect on financial outcomes at some point in the future.
For example, have there been significant sales increases after employees have gone through training? Has there been a noticeable boost in productivity? These are tangible areas which can be measured by looking at the before and after statistics. Intangible examples could be, has there been higher employee morale? Have there been fewer grievances?
Action Step:
Before you get started with level four measurement, it is important to already have established a system for managing and reporting employee performance over time. Your measurement system should clearly define goals and costs and have a way to attribute clear accountabilities to both. Once that criterion is met, you can analyze the correlation between the goal attainment levels, and the trainings that the staff underwent.
Return on Investment (ROI)
This level is the measure of the return on investment (ROI) of level four results. Simply put, ROI here means a measure of the benefit of this training versus its cost.
Action Steps:
Convert the results of Level four to monetary benefits
Get training program costs
Compare the monetary benefits with the costs to get the Net Training Program Benefits (= Monetary Benefits – Training Program Costs).
The non-monetary benefits (though intangible) can be presented as additional evidence of the training program's success
Expressed as a percentage, calculate ROI as (Net Training Program Benefits / Training Program Costs) x 100.
It is recommended that you decide over which period you wish to measure your ROI. This may be a time period that fits with your planning cycle e.g. one year. Or you may prefer the period to match the lifetime of the benefit i.e. the time the staff stays in the role where they apply the skills taught.
While it is tempting to focus on the higher levels of assessment straightaway, it is imperative that we first focus on getting the maximum insight out of the lower levels and properly implement their measurement.
On the other hand, it could be more convenient for many to stay in the comfortable world of level 1 and Level 2 evaluations, avoiding on-the-job behavior and organizational results. Again, this is misguided and incomplete since the main objective is often lost.
It is therefore very important to ensure that all the five levels are used when using Kirkpatrick & Phillips evaluation model to measure the business impact of employee training.