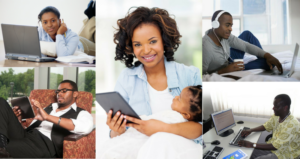 Organizations now commonly use e-Learning to deliver some or all of their training, with over 70% using Learning Management Systems to do so.
Hence, our e-learning service is another way we can help you build competence in your workforce, interestingly, without the costs associated with the classroom learning.
Our e-learning system is complete and comprises of a learning management system and content of over 200 quality courses covering the following areas:
Courses are taken at the pace and convenience of each participant. With this learning style, the learning outcomes compare favorably with those of classroom learning. This is because of increased level of participation through interactivity and self-paced ownership of the learning.
Each participant engages at any time when they are most alert and will have the ability to stop and reflect whenever they want, return to previously-delivered content, or call up other resources to help them understand the concept being explained, and thus ensure a deeper understanding before continuing. They will have the time to digest and integrate information being presented into their existing understanding and context. This is how they make sense of it which leads to higher levels of cognitive engagement and therefore higher levels of retention.
In addition, because our system provides 24 hours 7 days training access and convenient delivery to the home, office, or mobile environment, participants will learn on their schedule and save your organization work hours and money.
Generally, in addition to the value we provide, the following are why our e-learning services are effective:
Time efficiency: Our key learning points are filtered and excitingly presented in a relatively short time. This is because we provide condensed content delivery, scripted to be succinct and accurate.
High quality: High quality easy-to-understand courses.
Measurable: With our system you'll be able to track and report on participation, engagement and demonstrate the value from training.
Convenience: Just the right training at just the right (convenient) time.
Cost effective: Saves your organization time and money which helps to significantly reduce the overall cost of learning and development.
Train more people: Due to reduced cost, give more employees the opportunity to learn the skills they need to succeed.
Seamless experience: Learning portal will be branded with your company logo and colours.
Ease of use: You do not need to preinstall any software in order to run our courses. Simply access the learning portal with your browser and start learning.
SCORM compliant: All our courses are SCORM compliant giving us the adaptability necessary for constant updates.