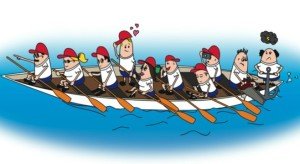 In just about any industry and in just about any role, you will eventually find yourself in a leadership position, that is if you're not a leader already. Hence it is important to understand what employee engagement means and how your leadership role affects it.
Employee engagement is the extent to which employees feel passionate about their jobs, are committed to the organization, and put discretionary effort into their work.
Employee engagement does not mean employee happiness. Someone might be happy at work, but that doesn't necessarily mean they are working hard, productively on behalf of the organization. While company outings, TGIF, and end-of-year parties are fun–and may be beneficial for other reasons–making employees happy is different from making them engaged.
Also, employee engagement does not mean employee satisfaction. A satisfied employee might show up for her daily 8-to-5 without complaint. But that same 'satisfied' employee might not go the extra effort on her own, and she'll probably be easily lured away by a recruiter with a 10% increase in pay. Satisfaction is not enough.
So put in a different way, employee engagement is the emotional commitment the employee has to the organization and its goals.
This emotional commitment means engaged employees actually care about their work and their company. They don't work just for a paycheck, or just for the next promotion, but work on behalf of the organization's goals.
When employees care—when they are engaged—they use discretionary effort. Examples are: The engaged computer programmer who works overtime when needed, without being asked; The engaged bank officer who visits the office on Saturdays to ensure the ATM works, even if the boss isn't aware.
Engaged employees lead to better business outcomes. Hence, an organization with high employee engagement might therefore be expected to outperform those with low employee engagement, all else being equal. Studies by Kenexa Research and  Towers & Perrin point to the fact that engaged employees bring higher net profit margins and shareholder returns.
However, as critical as employee engagement is, very few people in management appreciate its importance and their role in achieving high employee engagement.
Based on an accumulation of studies reported in the mid-1990s, Gallup findings revealed that the primary determinant of an engaging and high-performing workplace is the manager.
When managers exhibit high competence in team leadership, employees are 59% more likely to be engaged. This is primarily because, at each level in the organization, the local manager or team leader has the ultimate influence over how to communicate expectations, whether employees have a chance to do what they do best, whether individuals have opportunities to develop and whether people are able to see how their work connects with the organization's overall mission or purpose.
Hence, the level of engagement fluctuates widely and unnecessarily in many organizations due to lack of consistency in how people are managed in various teams. This buttresses a more recent Gallup report that as much as 70% of the variance in the employee engagement of teams can be traced back to the influence of the manager. In other words,  if the manager is good, the engagement level of the team is relatively high and if the manager is bad the engagement level is relatively low.
What makes the good managers who have highly-engaged employees different, is how they view their relationship with their direct reports. Rather than seeing themselves as an enforcer of performance; they consider their role as a manager and developer of front-line talent.
While conventional managers rate the person and develop the performance, good managers do just the opposite—they rate the performance and develop the person. Highly effective leaders use situational leadership style knowing that every person is different and should be treated as such.
So what kind of leader are you or would you like to be? Whatever your answer is, we've made it easier for you to enhance your leadership skills. You could start today.